Sen. Florence Reynolds
Return to Notable Former Nebraska Legislators
Return to Notable Former Nebraska Legislators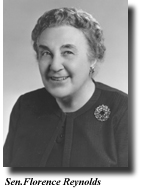 Sen. Florence Reynolds was a teacher and elementary school principal for 45 years in Omaha before she served as a state senator.
Reynolds served from 1967-71 and was Omaha's first woman senator to serve in the Unicameral.
A volunteer for many organizations, she believed in giving to her community.
"After your country and its communities have given you the opportunity to develop your talents, there comes a time when you must return what you can," she said. "... I should give every moment of time I can for the benefit of others."
The Atlantic, Iowa native set out to be a pediatrician, but because of unforeseen expenses chose to become a school teacher instead so that she could continue to pursue her desire to work with children. As a music teacher, she formed the city's first grade-school orchestra.
In 1966, Reynolds received the Omaha Education Association's School Bell Award for her years of distinguished service. She served on the Governor's Commission on the Status of Women, was president of the Omaha Education Association and was named Outstanding Professional Woman of Omaha by the Omaha Business and Professional Women's Club in 1963.
She graduated from the University of Iowa and took summer courses throughout her life at several universities, including Harvard, Rutgers and Columbia. She also read law in her free time. She died in 1985 at age 87.
Sources: Nebraska Blue Book and Omaha World-Herald