Sen. Fern Hubbard Orme
Return to Notable Former Nebraska Legislators
Return to Notable Former Nebraska Legislators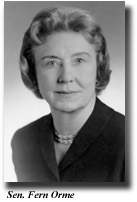 Long before it was fashionable for women to work outside the home, former Sen. Fern Hubbard Orme said women's service in the community or the Legislature would not jeopardize their families.
"Women have a keen interest in community welfare and much first-hand experience in dealing with community problems. It is the woman who does know...budgeting and spending and knows the importance of proper conservative legislation.," Orme said in 1956.
The Lincoln homemaker was first elected to the Legislature in 1958 and served 14 years representing the southeast district in Lincoln, losing in 1972 to former Sen. Shirley Marsh.
Orme led Nebraska to be the second state to endorse the Equal Rights Amendment to the U.S. Constitution, which eventually was defeated.
She was responsible for saving Lincoln's oldest masonry building, the Thomas Kennard House, named for Nebraska's first secretary of state who owned the mansion. Orme's bill was intended to make the building a memorial and appropriated $60,000 to restore it for the state centennial in 1967. Then-Gov. Frank Morrison vetoed her bill, but Orme succeeded in having the veto overridden.
She also was recognized for building state support for the construction of the women's physical education building at the University of Nebraska-Lincoln.
Orme taught English and dramatics at UNL in the 1920's and the same subjects for nearly 15 years at Irving Junior High School in Lincoln. She served 10 years on the Lincoln City Council before coming to the Legislature.
Orme was born April 17, 1903, in Opportunity, a former town in Holt County. She attended O'Neill Public Schools. She earned three degrees, two in English and one in dramatics, from UNL. She died March 17, 1993, in Ft. Meyers, Fla., where she had retired.
She was honored with many awards, including: the Nebraska Builders Award, the university's highest non-academic honor, for leadership in governmental affairs, advancing education throughout the state and promoting economic and professional opportunities for women; the Addison E. Sheldon Award for achievement in preserving or interpreting state history; and the Christian Citizenship Citation from United Church Women.