Sen. JoAnn Maxey
Return to Notable Former Nebraska Legislators
Return to Notable Former Nebraska Legislators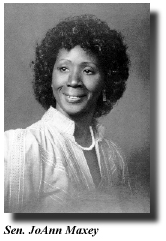 JoAnn Maxey was known as an advocate for the young and disadvantaged.
"She always asked, What can I do to make a better life for all of us, and especially young people," said Lenora Letcher, president of the Lincoln chapter of the NAACP, upon Maxey's death in 1992. Maxey was 54.
Maxey served as a state senator from 1977-1979, representing the 46th district in Lincoln. Former Gov. James Exon appointed her after Sen. Harold Simpson resigned.
She was the first female African American to serve as a state senator.
One of her legislative accomplishments was obtaining state funding for centers for displaced homemakers. The bill passed despite a veto by Gov. Exon.
Maxey also was the first black elected to the Lincoln Board of Education. During her two terms, she pioneered programs in special education, outreach for dropouts and at-risk students, broader vocational activities and expansion of girls' sports opportunities.
Prior to holding political office, Maxey helped organize clubs for black teenagers and a community group that encouraged public schools to reflect diverse cultural backgrounds in textbooks and in classroom lessons.
She was a mother of four who was active in her church, serving as a Sunday school teacher for 30 years.
The National Association for the Advancement of Colored People recognized Maxey in 1991 for her community service.
After her death, Lincoln's Malone Community Center named its senior center after her. Maxey headed the center's senior citizen program and worked to enable low income seniors to take advantage of its offerings. A Lincoln elementary school also was named in her honor.
Maxey was born in Chattanooga, Tenn. on March 6, 1940. She attended Butler University, Indiana University and the University of Nebraska. She was a homemaker, lab technician and active in many organizations, including Lincoln Foundation, League of Women Voters, Black Women's Caucus and a lifetime membership with the PTA.
Sources: The Lincoln Journal, Lincoln Star and Nebraska Blue Book.