Sen. Charles Warner
Return to Notable Former Nebraska Legislators
Return to Notable Former Nebraska Legislators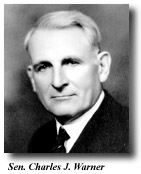 Charles J. Warner, the Unicameral's first Speaker, was known as the "Grand Old Man of Nebraska Politics."
The four-time lieutenant governor served as Waverly's state legislator for 26 years, most of them before the one-house system was adopted in 1937. That year he was unanimously elected the Unicameral's first Speaker.
After his stint at the Legislature, the progressive farmer and cattle raiser ran unsuccessfully for governor three times. He was elected lieutenant governor four times, serving from 1949 until his death at age 80 in 1955.
Warner was a devoted Republican who was known for his ability to balance factions of the party and ease tensions with a joke in his "legendary Swedish brogue."
Warner, who raised prize-winning Hereford cattle, was responsible for many livestock health laws. He also led legislative efforts to create the Kearney State Teachers College in 1903 and worked for the construction of many state and school buildings, including the current State Capitol.
Warner used his constitutional authority as acting governor and vetoed a wheat tax bill in 1951 while then-Gov. Val Peterson was out of the state. The bill would have assessed two mills per bushel of wheat to fund research and promotion with an advisory committee overseeing the funds.
"[The bill] creates another unnecessary agency of government at a time when we should simplify rather than expand state government," Warner said, explaining the veto.
The bill also would have encouraged large wheat growers to sell their crop outside the state, Warner added, leaving small wheat growers with the tax burden.
Warner was born March 29, 1875, in Lancaster County. He attended Luther College in Wahoo, Lincoln Normal University in 1894 and graduated from the University of Nebraska College of Agriculture in 1899. He graduated in 1902 from Columbia Law School in Washington D.C.
He was a member of the Nebraska House of Representatives from 1901-1907, the Nebraska Senate from 1919-1937 and the Unicameral Legislature from 1937-1939.
Before his death, he received the Nebraska Builder Award, the University of Nebraska's highest non-academic honor, for his contributions to the welfare of the university and the state.
He served on the State Fair Board for 30 years and was active in his local community. His 1,600-acre farm has been designated a state landmark.
One of his sons, Jerome, has followed his footsteps into state government, serving as a state senator for Waverly from 1963 until his death in 1997.
Sources: The Lincoln Journal, Lincoln Star and the Nebraska Blue Book