Sen. Jerome Warner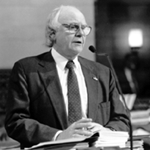 Jerome Warner was 9 years old when his father was elected Speaker of the first session of the first and only unicameral legislature in the country.
Charles Warner served 26 years as a state senator, much of that in the senate of Nebraska's former two-house system. He was elected lieutenant governor four times and was a candidate for the governor's office three times.
So it was no surprise that his son would follow the footsteps of the "Grand Old Man of Nebraska Politics" to become regarded as "the Dean of the Legislature."
The younger Warner's service as a state senator would surpass his father's. In his 35 years as a legislator, Jerome Warner headed committees on Education, Appropriations and Revenue and the Legislature's Executive Board, as well as serving as Speaker. By the time he died on April 20, 1997, he had earned the unwavering respect and trust of his colleagues and constituents through humility, dedication, knowledge and wisdom.
"Sen. Warner is the best argument against term limits," then-Gov. Ben Nelson was quoted as saying in the book on Warner, "Leaving Your Mark."
On the surface, Warner was known for his dry humor and Ben Franklin-like pageboy haircut. On a deeper level, he was known as a knowledgeable visionary who engineered long-term solutions to complex issues, including taxation, roads and schools.
He began his service with ambitious legislation intended to reduce the state's dependence on property taxes and ended his service with ambitious legislation for the same purpose. In 1962, he introduced a bill to create state aid for schools. It was defeated the first two times it was introduced but was passed into law in 1967.
During the 1996 session, the Revenue Committee, with Warner at the helm, crafted several bills aimed at limiting property tax levies, limiting school and government budgets, and encouraging consolidation and efficiency. That package was adopted into law, and a follow-up package was adopted the following session.
Warner was born Nov. 23, 1927, and grew up on a farm near Waverly, where his family raised prizewinning Hereford cattle and was recognized for their progressive farming techniques. He and his brother continued to farm together throughout their adult lives. He earned his degree in agriculture from the University of Nebraska, where he played for the Cornhusker football team.
Warner gained name recognition by joining various community and political groups and from a failed attempt for a legislative seat in 1960. At that time, legislative terms were two years long, and when the office opened up in 1962, he ran again and was elected. His work on a Lancaster County school reorganization board prepared him for his introduction of the state school aid bill in his first year in office.
In his second term, Warner was elected chairperson of the Government and Military Affairs Committee. That committee was responsible for writing legislation forming the Department of Administrative Services, a move that changed the way state government was managed.
In his third term, he became chairperson of the Legislature's Executive Board, which was to conduct interim studies on state highways. During those years, he worked closely with Betty Person, a former newspaper reporter who later would become his wife. In 1969, he was elected Speaker and introduced 16 bills on highway legislation that, among other things, established a road classification system and a weighted formula for distributing state dollars to cities and counties.
In 1977, he became chairperson of the Appropriations Committee and held that position for 14 years. His influence dramatically changed the appropriations process so that the committee, as well as the full Legislature, had the entire budgetary picture in front of them before making decisions. Also under his leadership, the timetable for considering state budgets was changed to a two-year cycle, instead of annually, to allow for longer-term planning and decision making.
Warner led the way to remove the uncertainty in funding for state highways. During the Arab oil crisis of the 1980s, people bought less gasoline, and gas tax revenue, upon which road funding depended, plummeted. The Legislature adopted a variable gas tax to be set according to the roads budget it approves. He also pushed for long-range planning of road development. Instead of making plans two years in advance, the Roads Department now makes them 20 years in advance.
His leadership helped make Kearney State College a part of the state university system in 1989, after his father's legacy. Charles Warner was responsible for establishing the Kearney State Teachers' College in 1903
In 1991, Warner was elected chairperson of the Executive Board for a second time, and in 1993, he became chairperson of the Revenue Committee.
Warner had several opportunities to pursue higher office, but turned them all away.
"I simply don't have an interest. What interests me is issues, the nuts and bolts of an issue, plus I was't interested in giving up farming," he told the Lincoln Journal Star during an interview.
His ability to remain objective amid controversy and unswayed by party politics brought honor to the nonpartisan, citizen Legislature, colleagues said.
In 1994, Betty, his wife and best friend, died of cancer. Warner was diagnosed with prostate cancer the following year. But he was fervent in his service to the state to the end, admitting himself to a nursing facility only after the Revenue Committee conducted its final meeting in 1997, two weeks before his death. Earlier in that session, he had missed morning floor debates to preserve his energy for the Revenue Committee hearings, which were held in the afternoon.
Warner told the Omaha World-Herald, "I sure as heck don't want to sit around and mope."
Excerpted from the Unicameral Update, April 24, 1997.